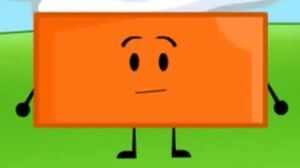 Orange Rectangle

Voiced by: Hugheseypoop

Gender

Male

Episode Eliminated

Episode 3A : Time's Going Slow (returns in episode 4, currently unknown)

Allies

Red Circle, Grey Diamond, Indigo Triangle, Tokey, Dollar, Grey Hexagon, Microphone, Round Square, 3d Cube, Brown Rectangle, Blue Circle (enemies at some point)

Enemies

Everyone (mainly Gold Square, Red Rectangle, Bottle Cap, Green Ball, Yellow Triangle, Orange Pentagon, Strawberry and Green Rectangle)

Age

9

Color

Orange

Rank

TBA (eliminated in episode 3A by mistake)

Date of birth

December 28, 2006
Orange Rectangle is a male contestant of
Shape Battle
and is a formerly eliminated contestant, rejoining due to a mistake in episode 3.
Description/Personality
Edit
Orange Rectangle became friends with Tokey and Dollar kick Red Circle got eliminated probably because Red Circle hates Dollar. He is the first returnee of the season. Despite being one of the main antagonists of the show he seemed to be also dumb and a fun-lover. (hurting Round Square's feelings twice). However Orange Rectangle is also easily angered making him unpopular by most of the contestants of Shape Battle. because he really hates Red Rectangle.
Orange Rectangle was formerly the lowest ranking rainbow colored eliminated (considering rejoining) Red Circle became the lowest ranking rainbow colored contestant.
He was the only enemy of Orange Pentagon
He was also the only friend of Grey Hexagon
PDDRMAnimationPro (Pearce) revealed that he eliminated Orange Rectangle to give Red Circle a chance to be nice
Ad blocker interference detected!
Wikia is a free-to-use site that makes money from advertising. We have a modified experience for viewers using ad blockers

Wikia is not accessible if you've made further modifications. Remove the custom ad blocker rule(s) and the page will load as expected.