Gold Square

Episode Eliminated : TBA

Gender

Male

Allies

Yellow Triangle (love Interest), Grey Hexagon, Green Ball, Strawberry, Round Square, Pizza, Tokey, Indigo Triangle, Brown Rectangle, Red Circle (possibly), Orange Pentagon, Blueberry, Orange Rectangle (Possibly), Plum, Cracker, Green Pentagon, Blue Circle, Bottle Cap

Enemies

Age

14

Rank

TBA

Voiced by

SammyShink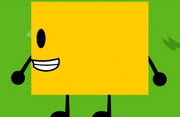 Description/Personality
Edit
Gold Square is sarcastic and pessimistic though he is helpful sometimes proven in episode 4.
Gold Square's original design is much darker than his current appearance despite being very shiny. He is best friends with Green Ball possibly and is reckless at times
Grey Hexagon surprisingly did not hurt Gold Square in episode 1 after his ignorance to him
Gold Square along with Green Ball, Strawberry, Round Square, Tokey, Orange Rectangle, (etc.) are the only rainbow colored contestants still running (while Red Circle and Grey Hexagon was eliminated)
Gold Sqaure, Green Ball, Tokey, Strawberry, Micorphone, 3d Cube, Pizza and Round Square are the only contestants not voiced by Pearce
Ad blocker interference detected!
Wikia is a free-to-use site that makes money from advertising. We have a modified experience for viewers using ad blockers

Wikia is not accessible if you've made further modifications. Remove the custom ad blocker rule(s) and the page will load as expected.