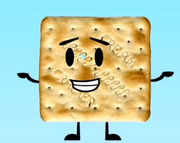 Description/Personality
Edit
His name is Cracker and is one of the contestants in Shape Battle he is currently up of elimination.
So far, what Cracker only wanted was an arcade and also he is forever alone that's why nobody likes him. Slightly and possibly. He is best friends with Green Hexagon and Strawberry only talking to both of them currently. Cracker has the words CREAM and a weird symbol stuck in a pattern on his body.
his voice is almost similiar to Paper from II,as they are voiced by Justin champman
Ad blocker interference detected!
Wikia is a free-to-use site that makes money from advertising. We have a modified experience for viewers using ad blockers

Wikia is not accessible if you've made further modifications. Remove the custom ad blocker rule(s) and the page will load as expected.