Description/Personality
Edit
Blueberry/Yoyleberry
is a contestant on Shape Battle. Blueberry/Yoyleberry is a nice contestant is generally friends with almost everyone here (except for
Grey Hexagon
possibly). She had a very unidentified personality but seemed calm, quiet, pleasant and nice to others. Most of her ML appearances made her look sad probably something related to her personality. Round Square's speaker box couldn't quite figure out her gender but judging that she's blue he thought she was a male contestant.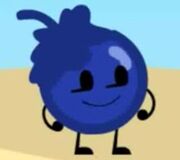 Blueberry/Yoyleberry

Blueberry is a contestant on Shape Battle

Gender

Female

Species

Blueberry/Yoyleberry

Friends

Blue Circle (possibly), Strawberry, Brown Rectangle, Indigo Triangle, Bottle Cap, Pizza, Tokey, Green Ball, Orange Pentagon, Round Square, Plum, Gold Square, Green Pentagon, Cracker (possibly), Green Rectangle (possibly), Round Square's Speaker box

Enemies

Grey Hexagon (possibly), Orange Rectangle (possibly), Red Circle, Red Circle's Speaker box, Yellow Triangle

Age

10

Episode eliminated

TBA

Place

TBA

Voiced by

Unknown (voiceless possibly)
Ad blocker interference detected!
Wikia is a free-to-use site that makes money from advertising. We have a modified experience for viewers using ad blockers

Wikia is not accessible if you've made further modifications. Remove the custom ad blocker rule(s) and the page will load as expected.